Right to Protection Against all Forms of Violence and Against the Worst Forms of Child Labor
Right to Protection against all forms of violence and against the worst forms of labour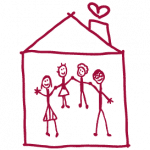 The protection of children against the worst forms of violence and the worst forms of labour are pillars of the work of Terre des Hommes Suisse. In order to ensure the right to protection, the behaviour of parents, teachers, authorities, but also of children and young people themselves must change.
Terre des Hommes Suisse raises awareness among adults and children about children's rights, including the right to protection: children reported feeling safer at school and within their families. Indeed, in order to transform the practice and normalcy of violence against children, it is necessary to act directly on the cultural knowledge and conceptions of those who supervise and protect them.
In order to fight against the worst forms of child labour, actions are focused on prevention and offering alternatives to the populations involved, as well as the promotion of education among child workers.
Adolescent girls are among those most at risk of violence: Terre des Hommes Suisse, together with its local partners, provides care for victims of violence and carries out in-depth work to deconstruct the cultural patterns which reproduce gender inequalities.
Encouraged to be real actors of change, children are concretely involved in actions to stop certain forms of violence. In India, children have mobilised to stop 20 teenage marriages and in Senegal, they are fighting so that children can obtain their birth certificate, which is necessary to go to school.
In 2019, more than 80,000 children and young people have benefited from protection measures against violence, including 42,000 girls in our 9 countries of action internationally.
"I don't receive any more beatings at home, thanks to the awareness-raising meetings in which my parents took part at school; they learned about children's rights to protection against violence"
Terre des Hommes Suisse's work in relation to the right to protection falls within the framework of sustainable development goals 5 (gender equality) and 16 (peace, justice and effective institutions).
Do you care about respecting children's rights ?
Get involved with us to help us carry out our mission.
Together, let's enable vulnerable children to have access to education, protection and care and to be listened to in decisions that affect them.
Every action counts and makes a difference in a child's life.
Thank you from the bottom of our heart!